Taxi Tips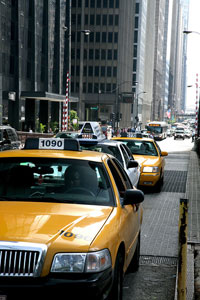 "
Exactly what I needed…
I travel a lot and never know who to call for a cab. This is perfect for BlackBerry users." -
New User, 2010
Okay, so we know you're going to use #TAXI (you've probably already added it to your smartphone and downloaded our awesome GPS app, but we also know you won't use it all the time. It might just be a backup, in situations like:
When it's rush hour and you've done everything short of streaking to flag a cab
During party season when the lines are jammed
When you find yourself in part of town you've never been to
When remembering a local cab number feels as likely as winning the Nobel Prize in Physics (so maybe that last drink was ambitious…)
For those times you don't use #TAXI, we still want you to get a cab as easily as possible. We know a lot about taxis, so we're going to share some tips.
If you have some great taxi tips of your own—either general or a result of your experience in a particular city—let us know! Write us on Facebook … if it's really good, we'll publish it here.