Alcohol, Retail, & Hospitality Partners
Being a Good Host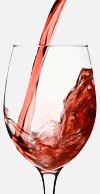 If you're hosting a party, you want people to have the best time ever—and making sure things don't get too sloppy is part of that. It's just nasty when someone hurls, annoying when someone's spilling their drink all over you, and a pain to wrestle car keys off of someone when they're slurring and shouting about how fine they are to drive.
So here are a few tips for keeping your party awesome and not a mess:
Serve food (who doesn't like chips with French onion dip?!)
Provide drinks other than booze (water is okay, but if you can, mix it up with tasty stuff like soda/juice mixes, non-alcoholic beers, etc.)
Don't make it too easy for people to inhale your entire liquor stock (keep it off an open table, for example)
Keep a little cash handy in case you need get the party write-off into a cab
See LCBO's great "Deflate the Elephant" interactive site for more hosting tips.
Alcohol companies, restaurants and bars, and liquor stores may love it when we support their brands—but not if the night ends in a car crash or other personal injury. Some even go out of their way to promote responsible drinking—where you have fun and make it home safe. These are the companies #TAXI partners with to get their responsible drinking messages to consumers.
For example:
Liquor commissions across Canada feature #TAXI posters at wine tastings and other in-store promotions.
In Ontario, #TAXI is featured as part of the LCBO's annual "Safe Prom" campaign aimed at teens and their parents. "Safe Prom" promotes making smart choices at grads so things don't move from celebration to disaster.
#TAXI partners with several Diageo brands in Canada and the US, including Guinness, Jose Cuervo, and Captain Morgan to help promote a safe way home through on-premise (i.e., in-bar) posters, on-pack and on-shelf retail displays, website contests, digital creative, and other collateral.
We work within the hospitality, convention and events industry to enhance social responsibility messaging and impact.
Check out some of the marketing initiatives we've worked on with partners:
Industry Partners from the USA
Images
Smirnoff contest button (Smirnoff)
Dont' Drive Impaired Poster (PennDot)

Dont' Go Overboard Contest (Captain Morgan)

Taxi Voucher (Captain Morgan)

St. Patricks Day Poster 1 (Guinness)

St. Patricks Day Poster 2 (Guinness)

DUI Sign (DUIisforlosers.com)

Calgary Stampede Ad (Trigger)
Video/Multimedia
---
Industry Partners from Canada
Images

Smirnoff #TAXI Tweet

Video installations (KB Media)

Bad Date Poster (Zoom Media)

Boys Night Out Poster (Zoom Media)

Drunk Cowboy Poster (Zoom Media)

Drunk Dancer Poster (Zoom Media)

Make-Up Poster (Zoom Media)

Banner Ads (Mix 99.9, 102.1 Edge)
Video/Multimedia
With mobile phones everywhere (in pockets and purses across the continent), #TAXI is a perfect platform and partner for anyone interested in promoting alternatives to drunk driving. Contact us to find out how we can help your company or organization promote safe drinking messages.