How It Works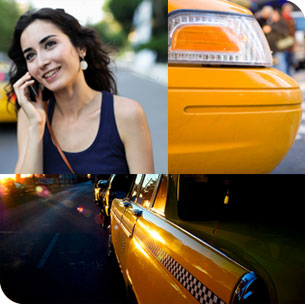 New Users in 2010 said…
"Spot-on for traveling… I'm on the road a lot for work and this makes it easy for me to grab a cab when in new locales."

"Handy… Works great for getting a cab easily and quickly."
The beauty of #TAXI is that it's crazy simple. It's just a number (#8294) you dial on your mobile phone that automatically connects you to the first available cab in your area. Wherever you are in North America, as long as there's taxi service.
Fact
#TAXI has no preferential relationship with any firm in the database, and we don't accept fees for recommending any cab company. This means you get the BEST cab company for your location–no other reason–and you can even ask for a certain company.
Calling #TAXI costs between $1.25 and $2.50 per call, depending on your wireless carrier (plus any applicable airtime and data charges). See more on pricing.
Classic situations where calling #TAXI makes sense:
Out at a bar or clubs with friends
When you're at a party or restaurant
When you're traveling on business
If you're a woman thinking about traveling safely
If you're having trouble getting a taxi for any reason
If you don't have a local cab company number at your fingertips
When you or a friend is hamstered
When hosting a party or event