General Tips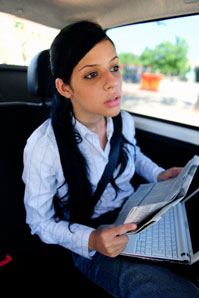 Hailing a Cab
Using Taxi Stands and Hotel Taxi Lineups
Paying by Credit Card
Tipping
Getting a Cab in NYC
Taking a Taxi Outside of North America
---
Hailing a Cab
Success in flagging or hailing a cab (allowed in most major cities), requires:
Kickass dancing
Physical brawn
A stone-cold-killer vibe when other people try to push in front of you
See this video for one woman's half-hearted stab at #1.
Seriously, to flag a cab you can't do much more than make yourself visible (but don't obstruct traffic) and raise your arm in the air. In busy areas, you might have to compete for a taxi with lots of other desperate people. This is annoying, but try to stay cool and remember that children and the elderly may not be as strong as you. The rule is generally first-come, first-served. If you feel like you're getting nowhere, walk a block or two to a quieter corner for a better chance.
Using Taxi Stands and Hotel Taxi Lineups
Most cities have taxi stands. Finding out where these are can help you manage your travel. Another option is a hotel, where a cab will usually show up within a few minutes or less. Hotel taxi lineups are mostly for hotel guests, but taxi drivers don't care who gets in their car as long as it's a fare. You might even get help from the concierge. Be friendly and courteous; even better, consider a tip.
Paying by Credit Card
"No credit cards—can only do cash, sorry." You've most likely heard this from drivers, but it's generally not true. Drivers say this to try to reduce the fees they pay and to keep their total fares. Understandable, but not cool for you. Make sure you can use your credit card by requesting it on the phone (if calling ahead of time) or by confirming this payment requirement with the driver before they start the meter. Doing so upfront will ensure the driver knows this is a condition to getting your business, and will avoid yelly exchanges at the end as you struggle out the door.
Tipping
Like many other services (e.g., dining out, haircuts), taxi driving generally includes tips. But only if the driver gives good service—a tip should function like a thank you.
If your driver is polite, gets you there safe and sound, and otherwise provides a hassle-free ride for you, 15% is usually fine. But if your driver goes above and beyond—e.g., providing you a city tour, helping you with baggage, or delivering your baby—go for 20%. (Actually, if we're talking baby delivery, just hand over your wallet.) With baggage help, one trick is to add $2 per bag to the fare.
If your driver is plain rude, unsafe, or inattentive, you don't need to tip (and consider reporting the driver to the taxicab company using the number provided on the seat facing you.)
Getting a Cab in NYC
In New York City, the yellow cabs you see everywhere are the kind you hail (or flag), not call. Other cars, without the famous yellow color, are the ones you can actually call—the ones #TAXI uses in its database. There's a trick with yellow cabs: only when the MIDDLE numbers on the roof of a yellow cab are lit is it on-duty. If all the numbers are lit, it's off-duty, and if none are lit, there are already passengers in the car. Don't even bother if the middle numbers aren't lit—keep your arm down and your face stoic or you'll become just one more NYC tourist joke!
#TAXI is especially useful in NYC since just as it can seem like you'll never in your life wave a yellow cab down, it can seem impossible to find the number for a black cab you can call. We know the numbers (as you might have guessed).
Taking a Taxi Outside of North America
As a foreigner, you can be an easy mark for local taxi drivers trying to make a buck by inflating fares. As such, here are a few tips to help you avoid getting fleeced while traveling:
When arriving at the airport, try to grab an info guide detailing the norms of the local taxi market (e.g., pricing, including typical fees from the airport to the primary destinations in the area).
Ask the front desk if you're staying at a hotel for information re: getting cabs around the city, pricing, and what to watch out for.
When you can, call only recommended cab companies (e.g., from your guide or the hotel) and find out about pricing in advance. It's way easier (and potentially safer) than having to negotiate with a driver while in the cab—especially if there are language barriers.
Nail down the price with the driver before he/she starts driving—for the entire fare, including additional charges.
Always carry the local currency. This will avoid haggling over the exchange rate or conversion hassles. Naturally, be aware of the exchange rate, too.
See how different taxi customs can be in the video, "How to Hail a Cab in South Africa", taken during the 2010 World Cup. Talk about on-the-fly driving!
For more info, check out:
http://www.taxiprices.com/. (Rates in some cities and abroad).
http://www.cantaxi.ca/membersonly/taxi_rates_survey/taxi_rates.htm (Rates in Canada).
For city-specific info, check out our section tips for getting Taxis in Your City.