Guinness Quick Cabs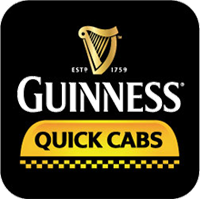 FREE to download and FREE to use, compliments of Guinness Canada!
Guinness Quick cabs is the quick and easy way to find a safe ride home, connecting you to the closest available taxi using your current location.
This incredibly convenient and powerful app will also connect you to the first available cab company and get you to the front of the line during busy periods, or connect you to your preferred cab company choice if you have one. Guinness Quick Cabs works in every city and major town across Canada.
Do the right thing and use Guinness Quick Cabs and get to your destination safely and quickly. Guinness thanks you for drinking responsibly.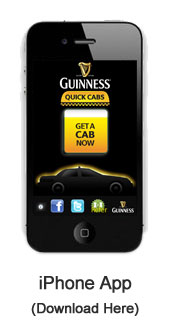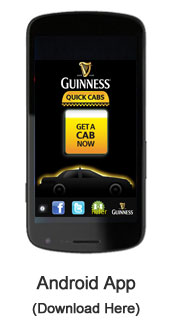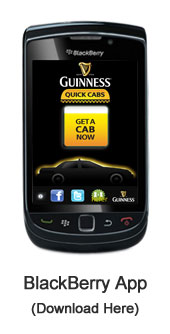 ---
Terms & Conditions
CellWand Communications Inc., on behalf of Guinness and Diageo Canada, endeavours to protect your personal privacy. We will only collect personal information that you choose to provide. Your Caller ID (phone number) and location information are temporarily stored on servers in order to serve you. In certain instances, we may provide you with the option to select whether you would like to receive information from us or from Guinness / Diageo Canada (for example, by choosing to opt-in or opt-out of receiving special promotional offers from Guinness). In some circumstances, you will not have the option to opt-out, such as when we are satisfying the obligations of a contract with you, administering a transaction requested by you, or as required by law. For more information please visit our terms and conditions at: www.poundtaxi.com/terms