Getting a Taxi in Vancouver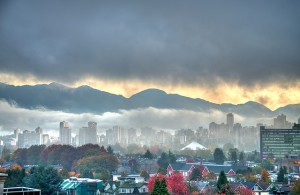 In General
Getting around by cab in Vancouver is mostly a good story: cabs come quickly and it's not hard to get through by phone to get a pickup. If you're downtown, it's pretty easy to flag a cab, and even easier to find a hotel with a nice line-up of cars at the ready. Outside of the downtown core, it can be a bit tougher and calling a company is usually your best option.
About Fares
Before even calling a taxi, figure out how much the cab ride will cost with this Vancouver Taxi Fare Finder. Don't forget to tip, because the fare finder won't have included this.
The initial charge (the charge you see on the meter when your ride begins) is $2.70, with every additional kilometer (2/3 mile) adding $1.60. Each minute of waiting adds 55¢. A typical fare (say, a ride from one downtown location to another) generally costs less than $12.
A trip to the airport costs $25–$30 (without tip).
Quirks
Vancouver cab drivers are generally fast, friendly, and reliable. The only thing you might have to put up with is a lot of cell phone chatter—but that's more and more the case everywhere, not just Vancouver!
If You Need to Rant
If you get terrible service you can call 1-888-564-9963 or email info@consumerprotectionbc.ca.
Got a Vancouver taxi tip? Send it our way!