Getting a Taxi in Toronto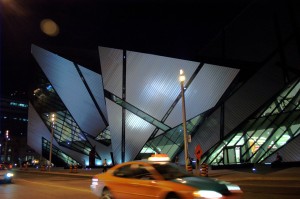 In General
With Toronto as busy and congested as it is, traveling by cab can be better bet than driving your own car if you're not close to subway lines. Cabs are abundant and safe in Toronto, but during rush hour waits caused by traffic can boost your fare into unspeakable territory. Cabs rates have gone up substantially in recent years due to high fuel costs.
About Fares
Taxis are easy to flag downtown, with fares generally under $15 in the city core (most downtown trips will cost $7 to $10, depending on traffic). Meters start at around $3 and are distance-based, so they increase in increments of 25¢. Make sure that the metered rate is set at one unless the driver has provided a good reason for it not to be (e.g., tons of bags or passengers). Most taxis have a limit of four passengers.
You can figure out how much the cab ride will cost with this Toronto Taxi Fare Finder.
Taxis are available outside the arrivals level of the airport, and charge a flat fee of $46 to downtown Toronto.
Quirks
Toronto has been tagged with the unfortunate label of "worst Canadian city in which to drive." Cab fares may be a bit shocking, but so too is the shoddy parking situation (not enough and expensive) if you're driving your own car.
If You Need to Rant
If you get terrible service the taxi complaints line is 1-877-868-2947 and it operates 24 hours daily.
Got a Toronto taxi tip? Send it our way!