Getting a Taxi in Seattle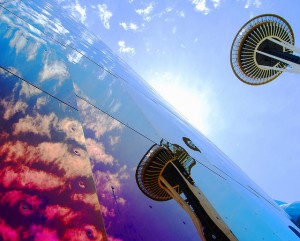 In General
Taxis can be tough to hail in Seattle, so it's best to call or wait at the taxi stands at major hotels. If you decide to try to hail one, be prepared to wait around for a while: for a city its size, Seattle has fewer cabs than you might expect. During peak hours on weekends, it can take 10–15 minutes before one even drives by.
About Fares
In Seattle, the meter starts at $2.50; after that, it's $2 per mile. Up to four passengers can share a cab, and third and fourth passengers can each get dinged a surcharge of 50¢.
The flat rate from the downtown hotel district to Sea-Tac Airport is $32. Cab rides into downtown Seattle from the airport are metered, range from $42–50, and are available only through Stita Cab.
Towncars and limos from the airport are available by calling #55 from the phone near the hotel ads in baggage claim. The current rates are $45 for a towncar and $50 for a limo. Ask your hotel concierge and they can usually get you a towncar for about $35 back to the airport.
For more specific rates, check out this Fare Finder.
Quirks
Along with various other cab companies, Seattle also boasts a taxi service specifically for dogs. Yup—if you're devoted to your dog (and his transportation), you'll be in luck in Seattle because there's Seattle Dog Taxi, committed to getting your pooch safely from one appointment to another. Thank goodness.
If You Need to Rant
If you get bad service from a cab in Seattle, email taxihotlinecomplaints@seattle.gov.
Got a Seattle taxi tip? Send it our way!