Getting a Taxi in San Francisco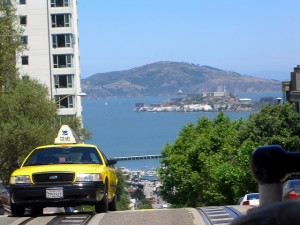 In General
San Francisco is a great walking city, but there are definitely times the city's breadth will necessitate a cab trip. It's easy to hail a cab if you're by Fisherman's Wharf, Union Square, or Market Street—or hotels or other tourist centers.
But if you're more remote, check for a taxi stand (Map of San Francisco Taxi Stands) or try to call a cab company. Be warned, though: a lot of San Francisco cab companies have long wait times. #TAXI will call the best and those with the quickest pick-up times, but even they can be stretched thin at times, so plan your time and schedule accordingly. Even better, call to schedule one in advance.
As with cabs in many other cities, San Francisco taxis show they're available via a lighted sign on their rooftops.
About Fares
Most fares in town cost less than $10, but full crosstown trips can go over $20. Rates are approximately $2.85 for the first mile and 45¢ each 1/5th of a mile after that. Fares between downtown and the airport range from $35-40.
Trips going more than 15 miles outside the city limits or from the airport and away from the city core are billed at 150% of the metered rate, but drivers can't charge extra for luggage.
For more specific fares, check out this Fare Finder.
Quirks
We've heard about unforgettable taxi experiences in San Francisco from our customers—made so by the fascinating characters behind the wheel. From music fanatics to amazing storytellers and writers—and even well-off drivers who drive just for the fun of it—San Francisco has it all.
If You Need to Rant
If you get terrible service from a San Francisco cab, you can call 311 or 415-701-2311.
Got a San Francisco taxi tip? Send it our way!