Getting a Taxi in Philadelphia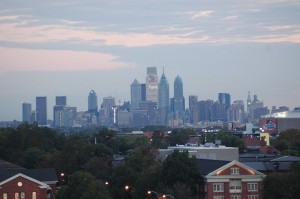 In General
Taxis in Philadelphia can be a little on the expensive side but there are lots of them. While "gypsy" cabs are now outlawed, do make sure you get in a licensed cab (look on the back of the passenger seat) because a few are still trying to operate—and you never know what kind of service or fare you'll get with them.
About Fares
For the first 1/7th of a mile, the meter will charge $2.70 and then it's 30¢ for each additional 1/7th of a mile or minute of the motor running, with a 50¢ fuel surcharge. A typical cross-town trip will cost you $10.
The flat rate for taxi transport from the airport to downtown Philly is $28.50 (plus $1 for each additional person over 12 years old). Any trip that takes you to within the boundaries of Fairmount Ave (most northern point), South Street (most southern point) Delaware River (most eastern point), and University City/38th Street (most western point) is eligible for the Center City flat rate. There is generally no fuel surcharge or cost for baggage in Philadelphia cabs.
For more specific fares, check out this Fare Finder.
Quirks
Philadelphia cab drivers have been notorious for their dislike of passengers paying by credit card—but they're all supposed to be outfitted with machines for this type of payment. Make sure to ensure at the start of a trip that you will be able to pay how you like.
If You Need to Rant
If you get terrible service from a Philly cab, you can fill out a complaint form here.
Got a Philadelphia taxi tip? Send it our way!