Getting a Taxi in New York City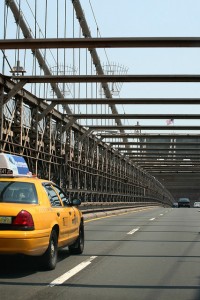 In General
New Yorkers feel, um, strongly, about taxis in New York. On the one hand, they love them because they provide a quick and easy way to get across Manhattan. On the other, the 10,000+ yellow cabs servicing the city can make traffic in the city nasty. Many traffic-jams in mid-town are cab-created. But the fact remains that cabs are a convenient way to get around NYC and can actually be pretty cheap if you're traveling in a group.
The yellow cabs you see everywhere are the kind you hail (or flag), not call. There's a trick with yellow cabs: only when the MIDDLE numbers on the roof of a yellow cab are lit is it on-duty. If all the numbers are lit, it's off-duty, and if none are lit, there are already passengers in the car. Don't even bother if the middle numbers aren't lit—keep your arm down and your face stoic or you'll become just one more NYC tourist joke!
You can't call a yellow cab company in New York, so calling #TAXI won't connect you to a traditional taxi dispatch. Instead, dialling #8294 will connect you to a livery service or 'black car' company, which is quite handy given it seems impossible to find a number to call for a ride in New York. We know the numbers to all the best ones (as you might have guessed).
About Fares
New York yellow cab meters start at $2.50 upon entry then cost 40¢ for each additional 1/5th of a mile and minute of waiting or going at less than 12 miles per hour. Drivers can also apply a night surcharge of 50¢ between 8pm and 6am, and peak hour weekday surcharge of $1 Monday to Friday between 4pm and 8pm.
To La Guardia, a metered fare will run around $30 including tolls. When traffic is light, you can get there in 20 minutes, but it can be more than twice that at the wrong time of day.
To JFK Airport, a flat rate of about $45.00 can be had, plus any tolls and the NY State surcharge (50¢).
To Newark Airport, it is a metered fare of around $50, plus a $15 surcharge for a NYC Taxi.
Keep in mind that if you call a black car for trips to and from an airport, you can confirm a flat rate in advance of your booking.
For specific fare info, use this Fare Finder.
Quirks
Sometimes in NYC, a subway is a better idea than a cab. It's always harder to get a cab when it's raining as well as during shift change (around 5pm) and rush hour. At times like these, it's often quicker to take the subway, in particular North-South. Even if you can hail a taxi quickly during times, you might be better to jump on a subway since you won't just be sitting in traffic (or uttering the famous words so many have already spoken: "You know what, I'll just walk…").
If You Need to Rant
If you get bad service from a cab in New York City, make a complaint here.
Got an NYC taxi tip? Send it our way!