Getting a Taxi in Houston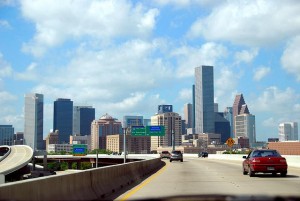 In General
There are lots of cabs in Houston—not surprising since to get around this city you basically need to have a car. But surprisingly, there's not a big flagging culture: trying to wave a cab down can be incredibly frustrating. The best thing to do is find a taxi stand or call ahead to one of the companies.
If you're at the airport, ground transportation employees will hail a cab for you outside the terminal you're at.
About Fares
There are two taxi rates in Houston set by the city: the meter rate or the flat zone rate, the latter which is assigned to each area of the city (see below). Whether it will be the meter or the flat zone rate depends on which is less: passengers get charged the lower rate.
Zone Rates [ Click for Taxi Cab Rate Zone Map ]
Zone
Vicinity
Day Rate
(6AM-8PM)
Night Rate
(8PM-6AM)
1
North Houston, 610 North
$38.00
$39.00
2
Downtown
$44.50
$45.50
3
Galleria, Greenway Plaza, Medical Center, Memorial, River Oaks
$51.00
$52.00
4
Reliant
$55.00
$56.00
5
William P. Hobby Airport
$62.00
$63.00
6
West Memorial, Bear Creek
$69.00
$70.00
7
Ellington Airport, Westside
$74.50
$75.50
8
NASA, Space Center Houston
$88.50
$89.50
9
Kingwood
$28.50
$29.50
10
Willowbrook
$35.00
$36.00
The meter rate in Houston goes like this: $4 for the first mile and $1.87 for every mile after that. Waiting is calculated at 33¢ per minute ($20 per hour).
Check out this Houston Fare Finder for more specific info about fares.
Quirks
In Houston, seniors (60+) get a 10% discount on fares. That's the good news (for seniors!). The bad news (for people out partying) is that there's a $1 surcharge on all trips between 8 pm and 6 am.
An interesting new taxi service to check out if you're in downtown Houston is Six in the City, where it costs $6 for a ride from one downtown spot to another.
If You Need to Rant
If you get terrible service from a Houston cab, call 281-233-7860 or email taxicomplaints@houstontx.gov
Got a Houston taxi tip? Send it our way!