Getting a Taxi in Dallas – Fort Worth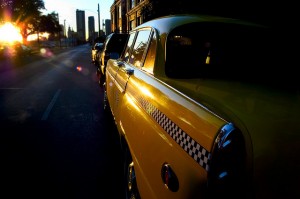 In General
There are areas in Dallas where you can flag a cab—but not that many: downtown Dallas or in the Uptown, Lower Greenville or Deep Ellum entertainment districts. In other areas, you'll need to call a cab company (there are more than a dozen operating in Dallas) or try to get one at a hotel.
Though fares are reasonable, Dallas has been called a "bad" taxi town. This is because people get frustrated by the lack of taxi stands and resulting traffic snares (taxis create makeshift stands and police hound them with tickets, whether or not they have passengers).
About Fares
Dallas taxi meters start $2.25 then go up 20¢ every 1/9th of a mile. Each additional passenger is $2 extra.
Fares to and from the two principal airports (DFW International Airport and Dallas Love Field) to Downtown Dallas and the Dallas Market Center area are "flat rate":
$45 for DFW to or from Downtown Dallas
$18 to or from Dallas Love Field to Downtown
$32 to or from DFW International to Dallas Market Center.
Sometimes a fuel surcharge is added to fares if gas prices reach $2.50 per gallon or more for three weeks straight.
Here's a Dallas Taxi Fare Finder for more specific information.
Quirks
While you won't find many taxi stands in Dallas, you'll often find lineups of cabs blocking streets—if you do get in one of these cabs, get in quickly before a ticket-wielding police officer comes round!
If You Need to Rant
You can email info@dallas.bbb.org to make a complaint about bad service from Dallas cabs.
Got a Dallas taxi tip? Send it our way!