Getting a Taxi in Boston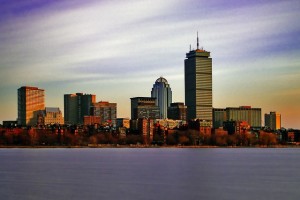 In General
Boston taxis aren't hard to find—unless it's late at night on weekends (Boston's awesome bar and club scene is a factor, as it the fact that the T subway line closes after midnight). They can be a bit expensive but they're generally very convenient.
Good places to find cabs are outside Copley Place, South Station, North Station, Faneuil Hall, and Back Bay Train Station, as well as hotels.
About Fares
The first 1/7th of a mile is $2.60, and every mile after that adds 40¢. Waiting time is calculated at $28 per hour. Passengers pay a $2.75 toll for all trips from Boston proper to Logan Airport and North Shore Communities, but no tolls from Boston proper to East Boston, not including Logan Airport. Check the rate before you get in, as the prices tend to change for each cab.
To get to the airport, it's usually about $25–$30 including tolls.
For more on Boston fares, check out this Fare Finder.
Quirks
In Boston it's especially important to stay to side of the street where traffic is going in the direction you're going when you're hailing a cab, since most of the city grid is one-way streets.
When there's really bad winter weather in Boston, taxis can get scarce. They may accept double where each party is charged the regular fare, less $2. They shouldn't charge for any tolls or fees, but there will be a minimum charge of $2.50 for each party.
If You Need to Rant
If you get terrible service with a Boston cab, file a complaint right here.
Got a Boston taxi tip? Send it our way!