Getting a Taxi in Baltimore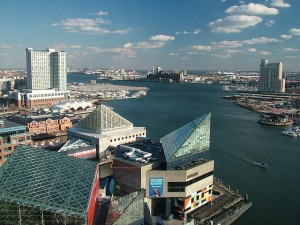 In General
In central parts of Baltimore (e.g., the Inner Harbor and southern Baltimore neighborhoods), you won't have to wait too long to flag a cab. If you're having trouble, you can always hit a popular destination like a hotel, sports venue, bar strip, or main subway terminal and be fairly sure to find a cab. Fares are reasonable. Outside the main area, you'll want to call a cab.
About Fares
All Baltimore cabs are metered. The initial charge (the charge you see on the meter when your ride begins) is $1.80, with every additional 1/11th of a mile adding 20¢. Each minute of waiting adds 20¢.
There is a flat rate of $30 from BWI Airport to the city.
Quirks
Baltimore is famous for its water taxis, which are little blue and white boats that go to scenic places like Fells Point and Fort McHenry. If you're a tourist, water taxis are a fun way to see the city, and some people even commute to work by water taxi. Adults can ride water taxis all day for $8, and annual passes are $80 for unlimited rides. Some people use the taxis to commute to work.
If You Need to Rant
If you get terrible service with a Baltimore cab, call 410-767-8128.
Got a Baltimore taxi tip? Send it our way!