Getting a Taxi in Washington DC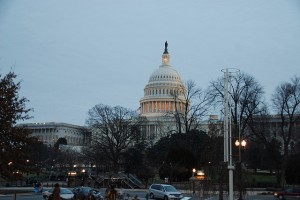 In General
Washington cabs are now on a standard metered system and not the confusing (at least to tourists) "zone fare" system they were on for years. There are lots of cabs and flagging one is easy unless it's evening, in which case it's generally best to head to busier streets or a major hotel to find a cab.
As convenient as Washington taxis are, for longer direct trips (including to Maryland and Virginia) a lot of residents prefer the Metro, Washington's subway system that is widely praised for its modernity and cleanliness.
About Fares
A trip from one downtown spot to another will cost anywhere between $4 and $15. The meter starts at about $3, plus 25¢ per each additional 1/6th of a mile and per minute of wait time, and $1.50 per additional passenger. Other charges may apply, such as for extra luggage or services.
For specific fare information, go to this Fare Finder.
There are three airports servicing Washington, DC, and a taxi ride from each costs very different amounts due to distance.
A taxi is the best way to get from BWI to downtown DC, but it won't be cheap (about $65). The taxi stand is located just outside of the lower level baggage claim area.
At Ronald Reagan National Airport, taxi stands are near the baggage claim exits of each terminal. Dispatchers will help you select a taxi based on your destination. A trip to downtown DC will take about 15 minutes and cost about $20.
From Dulles, where a dispatcher is on duty 24 hours a day, the 40-minute ride to downtown DC will cost between $50 and $60.
Quirks
While many cab drivers say they're not making enough money under the metered system that replaced the "zone fare" system, tourists are lucky the metered system is in. Under the zone fare system, locals would know to direct cabs street by street to make sure they weren't getting charged extra for crossing zones, but tourists didn't have this knowledge. Many a tourist would be at the mercy of drivers who purposefully crossed as many boundaries as possible or claimed that more boundaries were crossed than really were to be able to charge more.
If You Need to Rant
If you get terrible service with a Washington DC taxi, call (202) 645-6018 to make a complaint.
Got a Washington, DC taxi tip? Send it our way!